» En mi memoria
Hace ya casi un mes nos dejó mi padre y apenas tres semanas después lo hizo
mi tío Antonio
. Han sido días profundamente tristes. Ahora, a medida que van pasando, el dolor lentamente va disminuyendo aunque el recuerdo se hace cada vez más intenso y constante.
Ambos nacieron con pocos días de diferencia y se han ido también casi al mismo tiempo. Ley de vida, el reloj biológico es implacable.
Ahora es todo diferente, cualquier cosa por mínima que sea se vive de manera distinta. Todo ha cambiado tanto…
Estas imágenes son muy especiales, son las primeras sin mi padre. Sin miedo a despertarlo, sin miedo a que escuchara mis pasos al pasar por su habitación. Sensaciones extrañas en oscuras noches.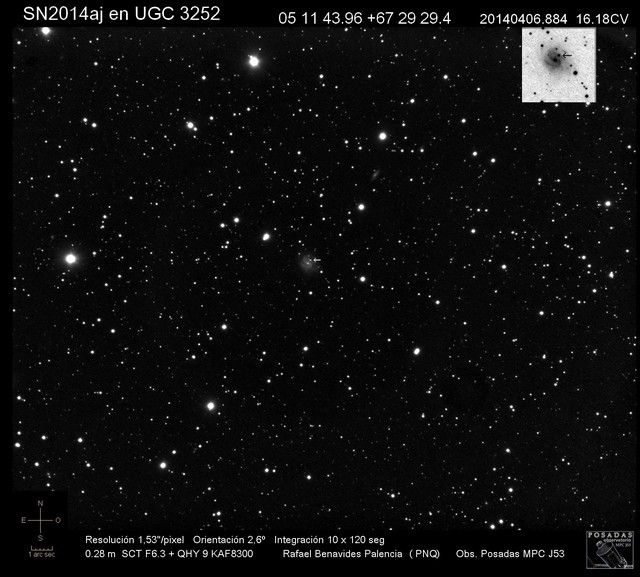 Click para ampliar
Justo tomando esta otra fue cuando nos abandonó mi tío, fue cuando sonó el teléfono con la fatal noticia. Nada podía hacer desde aquí, salvo observar y recordar todo aquello que me enseñó: observar el cielo, impresionarme con el rastro de las estrellas fugaces o a seguir el movimiento de los satélites de Júpiter.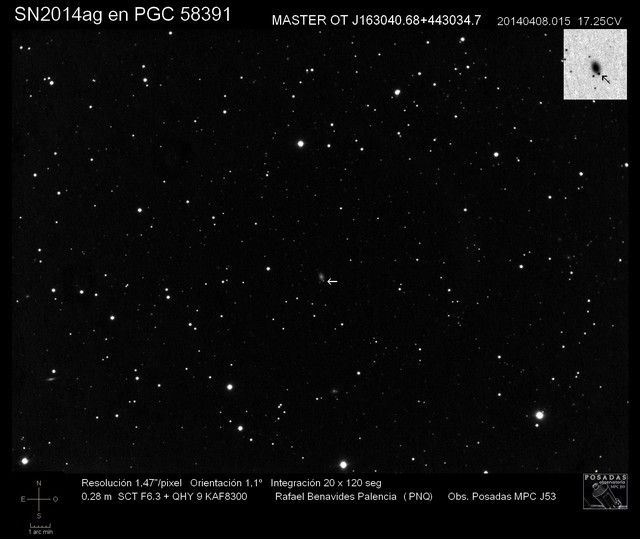 Click para ampliar
Nada podemos hacer ya, salvo tenerlos siempre presentes y recordarlos tal como eran. Siempre quedarán en mi memoria.
2014-04-16 00:13 |
12 Comentarios
URL de trackback de esta historia http://algieba.blogalia.com//trackbacks/74545
Comentarios
1

Tiempos duros y difíciles.

Lo he sentido como en propias carnes.

Abrazos.
2

| | |
| --- | --- |
| De: Rafa | Fecha: 2014-04-24 21:25 |

Lo sé, Juan-Luis, lo sé. Y has estado desde el principio. Muchísimas gracias por todos tus ánimos y apoyo desde entonces, me han servido de mucho y gracias a ti he estado activo todo este tiempo. No hubiera sido posible de otra forma.

Un abrazo
3

| | |
| --- | --- |
| De: Edgar | Fecha: 2014-04-29 01:03 |

Rafa, amigo, te entiendo perfectamente, ya pasé también por similares momentos. No te preocupes, nunca se van: permanecen en cada rincón de nuestras vidas y a cada momento nos abrazan el pensamiento. Es mentira; nunca se van...
Un fuerte abrazo.
Edgar
4

| | |
| --- | --- |
| De: Jose Maria | Fecha: 2014-05-04 23:06 |

Nos guiaron una vez en la tierra, ahora nos guian desde el firmamento. Un abrazo
5

| | |
| --- | --- |
| De: Rafa | Fecha: 2014-05-09 21:56 |

Gracias por vuestras palabras. Como bien dices, Edgar, nunca se van. Su recuerdo es permanente. Aún siguen aquí.

Seguro que nos guían y nos dan fortaleza en nuestras vidas, Jose María.

Un fuerte abrazo
6

Rafa, lo siento mucho, y con retraso te transmito el pésame pporque en verdad lo supe a través de tus compañeros de ODED cuando solicitaron fuera de plazo participar en las Jornadas de Astronomía en Granada hace meses. Te iba a escribir un mail personal entonces y nunca lo hice, siempre tan liado con tantas cosas y a veces estos detalles quedan fuera. Recibe un abrazo muy fuerte y muchos ánimos desde la distancia.
7

| | |
| --- | --- |
| De: Rafa | Fecha: 2014-05-31 20:33 |

¡Muchas gracias, Ángel! No te preocupes por el retraso.

Ya están los ánimos mejor aunque, como decía en otras respuestas, el recuerdo es constante.

Como decía Edgar, siempre están con nosotros.

Un abrazo
8


I have been studying your entries all the way through my morning holiday, and I should admit the entire article has been very enlightening and very well written. I assumed I'd mean you can understand that for a few reason this blog does not view smartly in Internet Explorer 8. I want Microsoft might prevent converting their software. I've a question for you. Might you mind changing weblog roll hyperlinks? That may be in reality neat!
12

Call Girls in Gurgaon
Call Girl in Gurgaon
Call Girls Gurgaon
Call Girl Gurgaon
Call Girl Gurgaon Service
Call Girls Gurgaon Service
Call Girl in Gurgaon Service
Call Girls in Gurgaon Service
Best Call Girl Gurgaon
Best Call Girls Gurgaon
VIP Call Girls Gurgaon
VIP Call Girl Gurgaon
Gurgaon Call Girl
Gurgaon Call Girls
Russian Call Girls Gurgaon
Russian Call Girl Gurgaon
Call Girls in Sikanderpur
Call Girl in Sikanderpur
Call Girls Sikanderpur
Call Girl Sikanderpur
Call Girls in Sushant Lok
Call Girl in Sushant Lok
Call Girls Sushant Lok
Call Girl Sushant Lok
Call Girls in MG Road
Call Girl in MG Road
Call Girls MG Road
Call Girl MG Road
Call Girls in Iffco Chowk
Call Girl in Iffco Chowk
Call Girls Iffco Chowk
Call Girl Iffco Chowk

https://www.singledate.in/
https://www.singledate.in/sikanderpur/
https://www.singledate.in/sushant-lok/
https://www.singledate.in/mg-road/
https://www.singledate.in/iffco-chock/
https://www.singledate.in/delhi/
https://www.singledate.in/gurgaon/
https://www.singledate.in/blog/
https://www.singledate.in/college-call-girls-gurgaon/
https://www.singledate.in/call-girls-gurgaon/
https://www.singledate.in/iffco-chock/
https://www.singledate.in/escorts-service-in-gurgaon-with-sexy-call-girls/
https://www.singledate.in/best-call-girls-gurgaon/
https://www.singledate.in/sikandarpur-hiprofile-escorts/
https://www.singledate.in/best-call-service-in-gurgaon/
https://www.singledate.in/gurgaon-call-girls-service/
https://www.singledate.in/high-profile-call-girls-in-gurgaon/
https://www.singledate.in/call-girls-huda-city-center/
https://www.singledate.in/russian-escorts-sikanderpur/
https://www.singledate.in/sikanderpur-call-girls/
https://www.singledate.in/sexy-call-girl-gurgaon/
https://www.singledate.in/call-center-girls-escort/
https://www.singledate.in/call-girls-mg-road/
https://www.singledate.in/bus-stand-escorts-call-girls/
https://www.singledate.in/call-girls-sikanderpur-gurgaon/
https://www.singledate.in/hudacity-centre-call-girls/

Call girls in Gurgaon | call girls Gurgaon | Gurgaon call girls | Call girl in Gurgaon | call girl Gurgaon | Gurgaon call girl | Escorts in Gurgaon | Gurgaon Escorts | Escort in Gurgaon | Gurgaon Escort | Call girls service in Gurgaon | call girls service Gurgaon | Gurgaon call girls service | Call girls services in Gurgaon | call girls services Gurgaon | Gurgaon call girls services | Independent Call girls in Gurgaon | Independent call girls Gurgaon | Gurgaon Independent call girls | Independent Call girl in Gurgaon | Independent call girl Gurgaon | Gurgaon Independent call girl | Independent Escorts in Gurgaon | Gurgaon Independent Escorts | Independent Escort in Gurgaon | Gurgaon Independent Escort | Independent Call girls service in Gurgaon | Independent call girls service Gurgaon | Gurgaon Independent call girls service | Independent Call girls services in Gurgaon | Independent call girls services Gurgaon | Gurgaon Independent call girls services | Housewives Call girls in Gurgaon | Housewives call girls Gurgaon | Gurgaon Housewives call girls | Housewives Call girl in Gurgaon | Housewives call girl Gurgaon | Gurgaon Housewives call girl | Housewives Escorts in Gurgaon | Gurgaon Housewives Escorts | Housewives Escort in Gurgaon | Gurgaon Housewives Escort | Housewives Call girls service in Gurgaon | Housewives call girls service Gurgaon | Gurgaon Housewives call girls service | Housewives Call girls services in Gurgaon | Housewives call girls services Gurgaon | Gurgaon Housewives call girls services | High profile Call girls in Gurgaon | High profile call girls Gurgaon | Gurgaon High profile call girls | High profile Call girl in Gurgaon | High profile call girl Gurgaon | Gurgaon High profile call girl | High profile Escorts in Gurgaon | Gurgaon High profile Escorts | High profile Escort in Gurgaon | Gurgaon High profile Escort | High profile Call girls service in Gurgaon | High profile call girls service Gurgaon | Gurgaon High profile call girls service | High profile Call girls services in Gurgaon | High profile call girls services Gurgaon | Gurgaon High profile call girls services | VIP Call girls in Gurgaon | VIP call girls Gurgaon | Gurgaon VIP call girls | VIP Call girl in Gurgaon | VIP call girl Gurgaon | Gurgaon VIP call girl | VIP Escorts in Gurgaon | Gurgaon VIP Escorts | VIP Escort in Gurgaon | Gurgaon VIP Escort | VIP Call girls service in Gurgaon | VIP call girls service Gurgaon | Gurgaon VIP call girls service | VIP Call girls services in Gurgaon | VIP call girls services Gurgaon | Gurgaon VIP call girls services | College Call girls in Gurgaon | College call girls Gurgaon | Gurgaon College call girls | College Call girl in Gurgaon | College call girl Gurgaon | Gurgaon College call girl | College Escorts in Gurgaon | Gurgaon College Escorts | College Escort in Gurgaon | Gurgaon College Escort | College Call girls service in Gurgaon | College call girls service Gurgaon | Gurgaon College call girls service | College Call girls services in Gurgaon | College call girls services Gurgaon | Gurgaon College call girls services